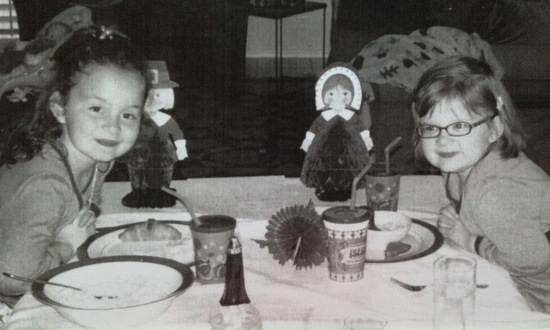 I sat down today with pen and paper, to reflect and record what I am truly thankful for this Thanksgiving. Most of my notes I email; notes to the teacher, quick questions to the doctor, reminders to my husband, even fun notes to my girls.
Maybe it is the absence of handwritten notes today that generates such emotion and contributes to the viral fame with notes of shame left on restaurant receipts, anonymous notes left in the neighbor's mailbox or on car windows. In honor of the holiday season, and in effort to spread some holiday cheer, here is my note of Thanksgiving.
All That I Am Thankful For Today:

For Wisdom: That I have finally accepted the value of taking care of me. That by dedicating time for soulful endeavors; my morning walk, cooking a fresh, healthy meal for myself, or even sitting in the sun to read a book- will make me stronger.
For Hope And The Inexact Science Of Medicine. What we know as the applied art of medicine today in practice and treatments, may be discarded tomorrow to make way for new thoughts and technologies. This gives me hope and also means that medical prognoses don't always come true. My daughter Zoe uses all the abnormally developed parts of her brain in the most amazing ways, to daily defy medical expectation.It also means that medicine can be whatever helps and heals- including the beliefs in your heart and the love you receive.
For The Comfort of Home. Our old couch and cozy blankets that hold us when we cuddle, soft sheets to sleep on, my favorite coffee mug , the non-chipped new dinner dishes on my table, backyard roses mixed with fresh rosemary, that sit in small vases on my kitchen counter. Zoe's exhaled sigh of contentment as she climbs into her bed to rest, happy to be home, after a full day of school. The slippers I change into at the end of of my long day.
For A Father's Love. The way my husband adores his daughters, worries for them and loves them, the way his loves transforms into understanding when he reaches for me in the night, and I am not there, absent again, trying to soothe a sleepless child.
For Words:
The words I always hoped to someday hear. Zoe's " I love you Mommy" and " I am scared", the ability to tell me her throat hurts that has dissolved the history of years past of not knowing what was wrong.
The words I hoped to never hear. " Why am I so tired all the time Mom? ," " Why does my voice sound so funny Mom? and " I wish I could do what other kids do".
The words I hope to always hear, over and over again. " Thanks Mom for all your help", and " What do you think? " from my teen girl. The text from my husband.. " You are the Love of My Life, FOREVER" and especially these simple, sweet words from Zoe " You know my favorite thing about the holidays? Spending time with my family."